Plowing
We know what it takes to handle New England winters. From regular dusting to serious post-snowstorm cleanup, we know how to keep snow under control for your property.
Advanced Planning and Management Control:
We visit each property before winter starts to perform a pre-season inspection, photographing key areas, and beginning to lay the foundation for a snow response plan.
Crafting Your Strategy:
We tally all required equipment, operators, sidewalk personnel, materials, and supervision needed for your property, so our team members can arrive on-site and know what needs to be accomplished.
Bringing The Right Equipment:
We use a combination of equipment, from large loaders to pickup trucks with smaller plows, depending on the size of the property.
Managing Snow Properly:
Our seasoned operators and drivers are careful to place snow where it belongs, according to the pre-designed plow map, not on anything that will be unsafe or harm your business.
---
Risk Management
Managing the risk of snow requires some serious considerations. We break it down into 3 important phases:
Pre-Event:
Perform site inspections and risk assessments
Establish territories with managers for faster response times
Train our staff on site-specific requirements
Create site-specific maps for high snow storage locations
Track storms using weather forecasting technology
During Event:
Focus on high priority areas for each specific property
Monitor weather conditions
Maintain communication with each driver, operator, and manager
Communicate with customers as needed
Post Event:
Keep records for each storm (weather data and event description)
Report incidents to ensure they don't happen again
Consult with customers to ensure customer satisfaction
---
Sidewalk Management
We know how essential sidewalk maintenance is to a comprehensive maintenance program. That's why we make sure to match your needs with our personalized management solutions.
Our Dedicated Sidewalk Personnel:
Team members specifically trained to clear sidewalks the safest and most efficient way possible.
The Best Equipment For The Job:
We have specialized equipment and machines for sidewalks including Snowrator and Ventrac sidewalk snow clearing machines, walk-behind spreaders and snow-caster shovels.
De-Icing For Clear, Safe Sidewalks:
We use highly-effective, safe, and non-corrosive de-icing materials on sidewalks to make sure all snow is melted even in the coldest New England weather.
---
Snow Melt & De-Icing
Our de-icing applications are designed to melt snow or ice and to improve safety and accessibility. We offer a wide range of safe, non-corrosive, and environmentally friendly solutions, including:
Magic Salt™
Bulk & Bagged Salt
Bulk Sand Salt Mix
Calcium Chloride
Magnesium Chloride
Calcium Magnesium Acetate
---
Hauling
Proper Snow Pile Placement:
Parking decks and garages have snow dump areas to drop snow from the deck to the ground below to reduce weight and still have plenty of room for parking.
On-Site or Off-Site Hauling:
We can haul snow either on site or off site using a combination of plows, pushers, loaders, and dump trucks.
Dowling Village North Smithfield, RI
A 77 acre mixed use retail site that we manage the snow and ice removal operations.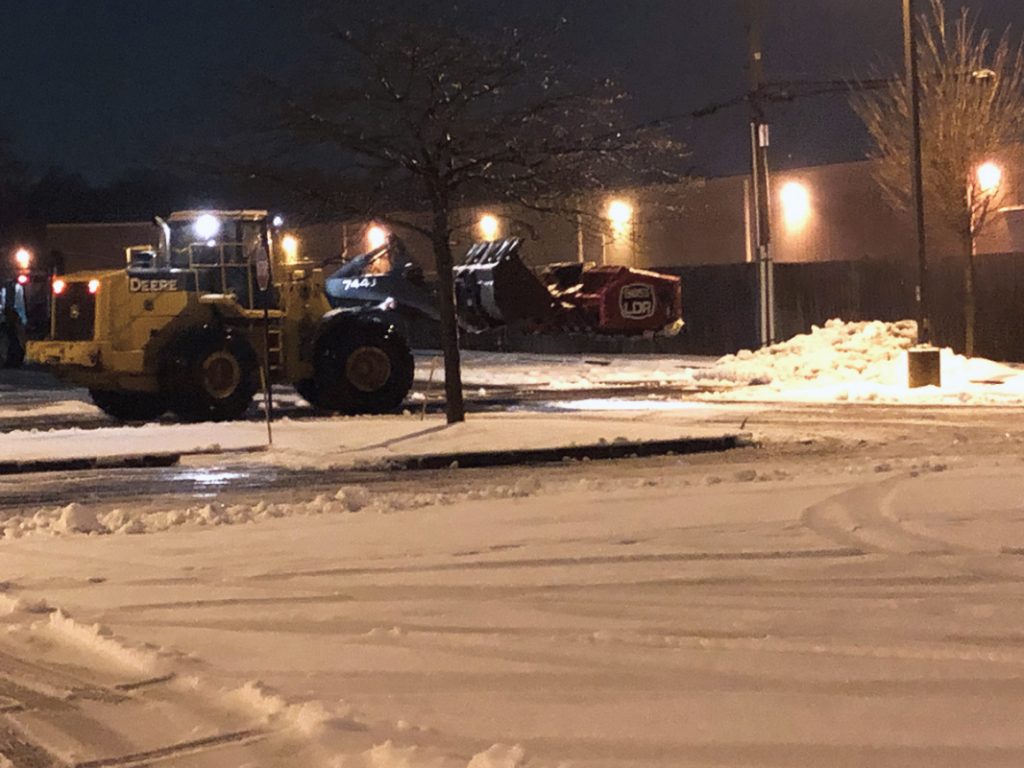 Proudly Serving
Southern New England
From our headquarters in Lincoln, RI, we're experienced in assisting property managers and businesses throughout Southern New England.
Don't Wait For Snow to Strike.
Contact Us Now For A Comprehensive Quote.
Snow doesn't always wait for the calendar to catch up. Get in touch today so you can be ready and we can respond right when the first flakes start falling. Get in touch with our team today.